George Washington, left; and George Washington Parke Custis, right.  Technology changed the way we remember them.  National Portrait Gallery, arlingtoncemetery.net.
Try to imagine what it would like to meet George Washington.   Look at portraits painted in the late 18th Century (not hard to do each time you pay with a dollar bill) and read his diaries, details about his personality, upbringing, and military career; and his actions as president.  Surmise what he might have sounded like from accounts of dialect experts and those who knew him.
The most prominent visuals we have for getting to know him are portraits painted by Gilbert Stuart, Charles Willson Peale, Robert Edge Pine and others.  They used their gifts to preserve the man to his country and posterity.  Colors in the Pine portrait above show Washington's resolve in his face, fist clenched on a walking stick, and dashing uniform.
Less than 50 years later, the camera emerged.
An early photographer recorded the image of George Washington Parke Custis on a glass plate.  Custis was Martha Washington's grandson, whom George adopted.  He built Arlington House, the grounds of which would become our national cemetery, and his daughter would marry Robert E. Lee.
The contrast between the painting and photo is striking.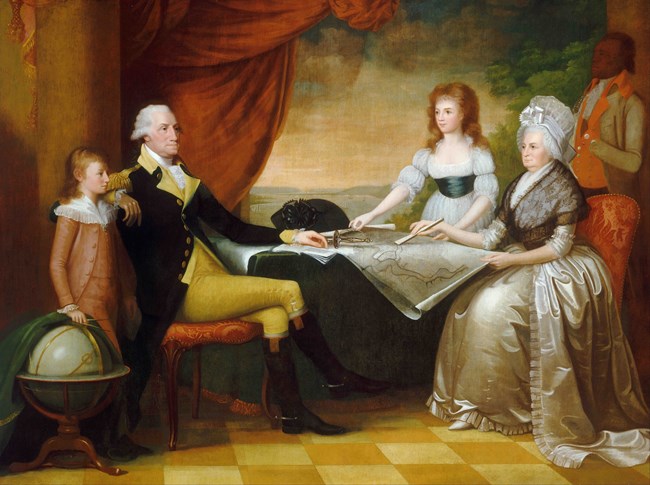 A scene too early to photograph: George Washington and George Washington Parke Custis  as a boy, with Nelly Custis and Martha Washington.  Painting by Edward Savage, National Gallery of Art.
mpr.com
Several years ago I walked into a room at the Metropolitan Museum of Art in New York City and stood looking at the famous Washington Crossing the Delaware.  It was the size of a school bus.
If Emanuel Leutze had had a camera available and was able to follow the troops on their way to New Jersey, what would the photos have looked like?  A bunch of ice and fog?  He probably would have lost his grip and dropped it in the river.  We'll never know.
Lieutenant John F. Kennedy's PT-59 in the South Pacific in the Second World War.  It's pretty hard to capture the determination in their faces from a live shot, as opposed to the soldiers in the painting of Washington's boat.  archives.gov.
I remember seeing a photo of Charles Francis Adams, son of John Quincy Adams, in his old age.  He was sitting outside near his wife, Louisa.  Why, that looks like it could be an picture of my great-grandparents!  Paintings must be of legends, photographic prints for real people,  I thought.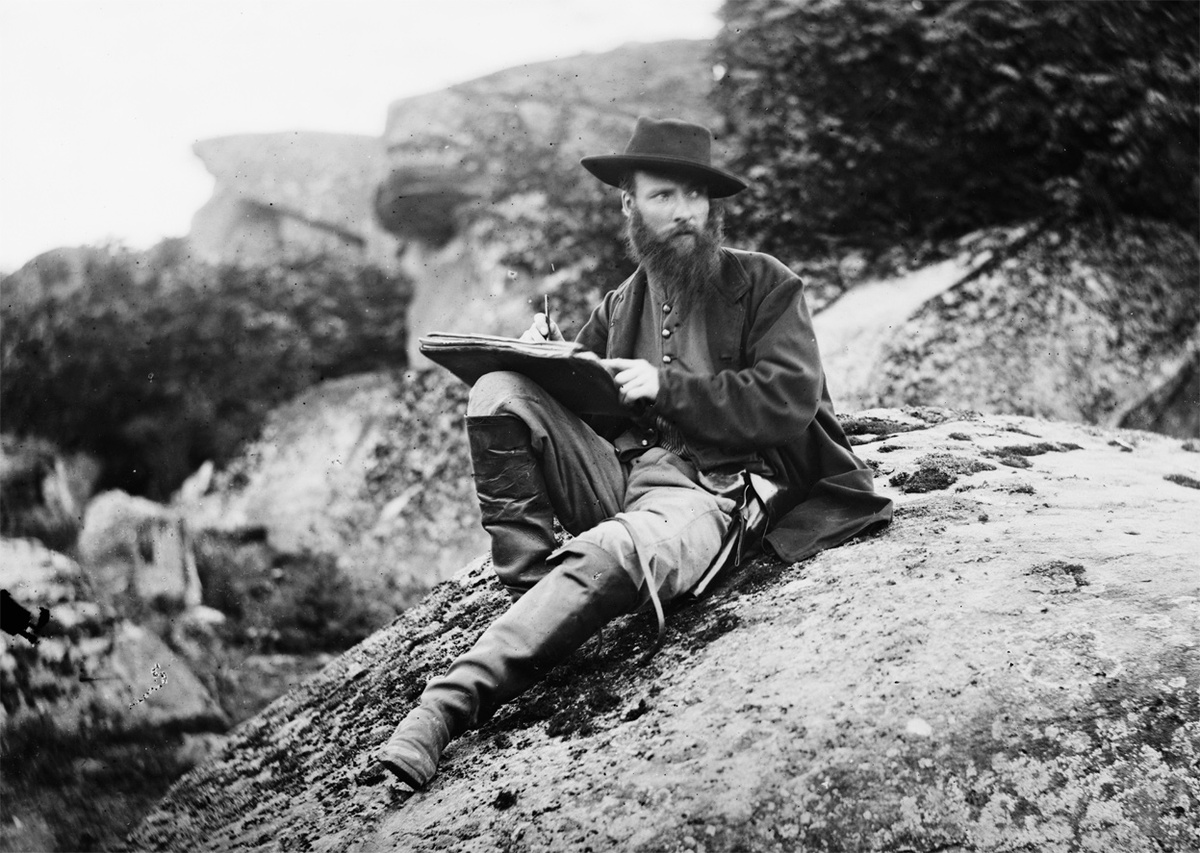 Timothy O'Sullivan captured this Harper's Weekly artist sketching on a hill overlooking Gettysburg.
The Civil War was the first to be recorded by camera equipment (which required its own caisson).  It is reported that sometimes photographers moved bodies in the battlefield to enhance composition or purpose.
There are those who would dismiss photography as an art form.  And those who scorn oil paintings as reality.  I think they can be both.  If, while looking at a photograph or a painting, you ask yourself questions about the subjects, the landscapes, the furniture, or the architecture, how can you not learn about what was?
photography…a subject of enormous social relevance…not a pitiable craft.  –Osip Brik, 1926.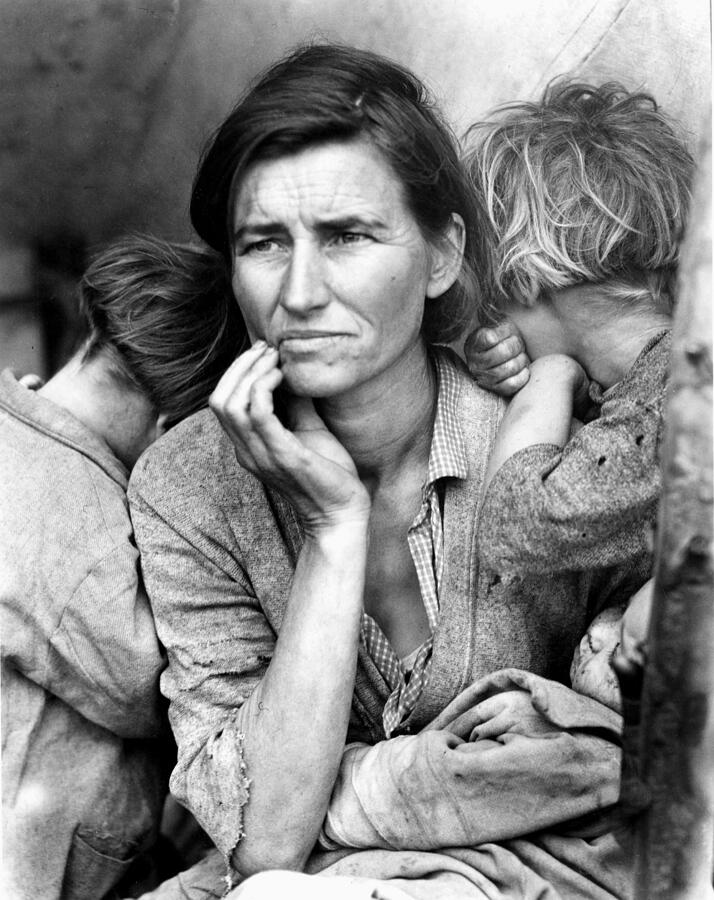 The iconic Migrant Mother by tells the story of a  woman and her seven children during Depression in California.  fineartamerica.com
Who sees the human face correctly: the photographer, the mirror, or the painter?  –Pablo Picasso
A student once said that when she looked at a painting, she liked to think about what was going on in the world as the artist worked.  That's critical thinking: cause/effect.  That's key to trying to get to the bottom of things.  It is both concrete and abstract.
Paintings and photographs are irreplacable primary sources.   People can debate about their worth in the art world, but why choose between them as a teacher?  Each has a purpose.  The medium itself reveals part of history.