What do you know about the horse George Washington rode? In paintings we usually see a majestic white animal complementing the general's stature, hair and blue and gold uniform. Washington was reported to be a superb equestrian, an athlete like Tom Brady or Wayne Gretsky would be to us. But the the actual steed? Its name? Its height? How long it lived?
Washington actually used two horses during the American Revolution: Nelson, shown above, and Blueskin, shown below. Nelson was George Washington's preferred mount in battle because he was less skittish than part-Arabian Blueskin.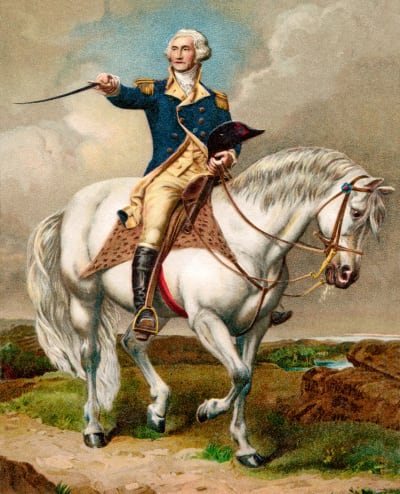 Then, as now, horses were at their best when cared for by farriers, blacksmiths and veterinarians. We can know one of those who took care of Nelson and Blueskin, because a descendant is in possession of original letters and documents.
Kenneth Clarke, who lives in Ohio, had often heard family stories about an ancestor's connections to George Washington. During the American Revolution Clarke's fifth great-grandfather, Simeon Prior, shod Washington's horse and served as the general's bodyguard. Clarke's elderly relative left him papers over 200 years old describing some very early history of our country.
Clarke reveals much in his recent book, Wolves and Flax. The title comes from the fact that the Prior family, Simeon and Katharine and several children, had to raise flax instead of wool in the wilderness of Cuyahoga Falls for their livelihood. Too many wolves destroyed the sheep.
Historians, writers and history buffs are always ready to investigate a previously unknown primary source. If you are in this group, I suggest getting a copy of the book.
Nelson and Blueskin lived out their days at Mount Vernon, never having to work after the war. The chestnut-colored Nelson, who was 16 hands tall and died at 27, always came running when he heard Washington's call. Just like us when we find that there is new information about the Father of our Country.
You can read more on Kenneth Clarke's Facebook page: https://www.facebook.com/wolvesandflax