There were once three farmers named George, Tom, and John. Two were located in southern climates with long growing seasons and fertile soil; one was much further north, limited in the crops he could choose. In fact, later in life, he started planting trees instead of hay.
They lived in colonial times when over 90 percent of the population were farmers. George Washington, Thomas Jefferson and John Adams we know as our first three presidents, but each owned and operated farms before, during and after they held office.
Mount Vernon is Washington's famous estate on the Potomac River in Virginia. In his day it included five farms on 8,000 acres. When he was at home, he rode on horseback 20 miles across the fields and back to inspect their progress. When in New York or Philadelphia, he counted on weekly reports from his overseers.
After tobacco crops of his ancestors depleted the soil, Washington turned to grasses, wheat, and other grains, practicing crop rotation and using manure for fertilizer. He raised cattle, sheep, chickens and mules, which he said ate less and worked harder than horses. His love for horses prompted him to buy an Arabian stallion which he raced in Alexandria. Hogs and turkeys ran loose in the woods.
He had inherited some slaves at age 11; at the time of his death he owned 215 people of color who worked up to 14 hours per day in the fields. He also hired white farm hands.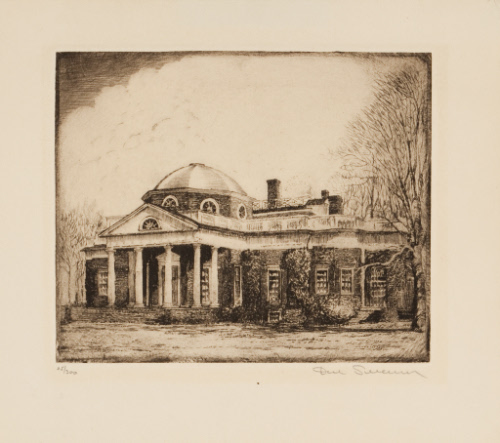 Not far away on a mountain, Thomas Jefferson worked his farms like a scientist, experimenting and recording the results of growing 70 species of vegetables and 176 kinds of fruit trees. Some seeds he'd gathered in Europe while ambassador to France.
His experiments caused the neighbors to label him "the worst farmer in Virginia." He installed a 10 foot-high wooden fence around his Monticello gardens, "not to let even a young hare in." His plantation also included 5,000 acres of clover and grain which he inspected daily, noting the difference to the soil made by contour plowing, crop rotation and organic fertilizer. His stock included cows, pigs, sheep, chickens — and fish, which were maintained in "live wells."
Like Washington he inherited slaves from his family and his wife's family, growing to 600 in number, who did the major work in the fields.
God speed the plough and prosper the stone wall. — John Adams
John Adams differed in many ways from Washington and Jefferson. He owned at various times a fraction of their real estate, 40 to 100 acres called "Peacefield" in Massachusetts. As a young man, his father took him to the fields and had him work to exhaustion. "Well John, are you satisfied with being a farmer?" he asked.
His son replied, "I like it very well." His father said, "Well, I don't…so you will go back to school today." He graduated from Harvard University when the student body only numbered 100, and became a lawyer and judge. He used profits from his practice to buy more land, and on the circuit made a point of gathering new information about working it. In a letter he gave a recipe for fertilizer which contained seaweed, marsh mud, potash, dung and kitchen waste.
When Adams was far from home in various government offices, he left the management of the farm to his wife, including purchasing and selling land (See a former post on Abigail – Nabby – Smith at https://amazingbirdcollection.wordpress.com/2017/04/04/nabby/). In one of the surviving 1100 letters they wrote to each other, he said, "I fear your crop of hay falls short. Contrive every means for the maintenance of the stock and increase food for the cattle." Other animals they owned included horses, sheep and chickens.
The Adamses had no slaves, hiring workers when needed. In his last years, John reflected, "There is nothing to try men's souls nor to excite men's souls but Agriculture…God speed the plough and prosper the stone wall."
George Washington emancipated his slaves at his wife's death. He had said in 1786, "I never mean to possess another slave by purchase," and also that he would have liked to see a plan adopted by Congress in which slavery would be abolished by slow, sure progress.
Thomas Jefferson gave seven of his slaves, all members of the Hemmings family, their freedom, but did not include Sally, who is said to have bore him several children. The rest of the enslaved people at Monticello were sold at auction to eight different bidders to pay back Jefferson's debts. The man who wrote that all men were created equal in 1776 had once likened slavery to holding a wolf's ear — one could neither hold him, nor safely let go.
This is a season of reflection. In late summer gardens and flowers wither, dropping their last unpicked fruit and blooms. While there are still warm rays from the sun, thoughts of tillers and planters turn to clearing out and getting the dirt ready for next spring.
Washington, Jefferson and Adams all knew the feeling. We must not lose or hide the example they showed replenishing the earth.
But to own another person to do the work was not, and will never be, right.
~ ~ ~
Information for this post came from John Adams by David McCullough, smithsonianmag.com, mountvernon.org, whitehousehistory.org, masshist.org, arnoldin.arboretum.harvard.edu, bostonteapartyship.com, monticello.org, nps.gov/articles.