The end of the deadliest war in American History occurred on April 9, 1865.  Robert E. Lee surrendered to Ulysses S. Grant at the town of Appomattox Court House, Virginia, in a citizen's home among sparse furnishings and a few soldiers.
Biographer Ron Chernow, in Grant, (Random House, 2017) reveals an amazing cache of research about the top Union general: his training, early experience in the military, conflict with his wife's southern family, rise to leadership in the war, frustrated efforts as president, and final battle with lung cancer as he tried to finish his memoirs.  But the pages which fascinated me most were the ones pertaining to Appomattox.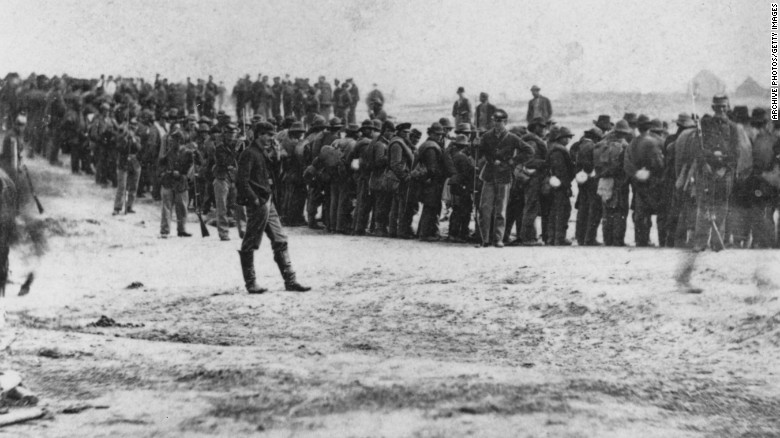 Soldiers wait outside as Grant and Lee parley.  http://www.cnn.com
Lee was not ready to give up until General Sheridan's army captured the South's last railroad cars of food and supplies.  He knew his men could not last without them.  He was urged by others to continue guerilla warfare in the back country but refused.  His enemy, surprisingly to some, was remorseful.
My own feelings were sad and depressed.  I felt like anything than rejoicing at the downfall of a foe who had fought so long and valiantly, and had suffered so much for his cause.  -Ulysses S. Grant
Lee had said earlier that he never believed the South could make its independence good in the long run without help from other countries.
From Chernow's extensive narrative, here are some notable facts:
One of Grant's closest friends was there – on the other side.  James Longstreet, aide to Lee, had attended West Point with the Union commander.  Afterwards Grant asked him to play a game of cards like they did in the old days.
Grant had a migraine headache until he received Lee's letter agreeing to meet for terms of surrender.
Lee was dressed in a fine grey officer's uniform, sword and sash given to him by a family from Baltimore.  Grant wore muddy boots with a soldier's blouse and trousers; he had no sword with him.  He was embarrassed by his appearance.
Wilmer McLean, owner of the home, had moved from Bull Run at the start of the war to get away from the fighting.  Ironically, a battle occurred that morning close to town.
Confederate soldiers were allowed to keep their horses and mules to take home for work on the farm, so long as they observed their parole.  Officers were allowed to keep their sidearms.  All received free rides on the railroad to get home.
While Julia Grant wanted her husband to ride victoriously through Richmond, he replied, "Do not say another word on this subject.  I would not distress these people."
In Washington, Abraham Lincoln said repeatedly, "Good!  All right.  Exactly the thing."  His son, Robert, a member of Grant's staff, was present at the signing of the documents.
Secretary of State William Seward, who'd been seriously injured in a carriage accident, said he'd been made to cry for the first time in his life.
An artist's rendering of the meeting of April 9, 1865.  http://www.constitutioncenter.org
Inside the McLean House today.  The original furniture was taken or sold by soldiers for souvenirs.
In less than three months we will note the hundredth anniversary of the Armistice which ended World War 1.  It was not the surrender desired by Commander of the American Expeditionary Forces John J. Pershing, but a cease fire.
Germany and her allies were punished in many ways, resulting in horrible poverty, despair and animosity.  We should have learned something from the actions of Grant and Lee fifty years before.  Take their surrender, not their dignity.